Swift Current SK
established in 1970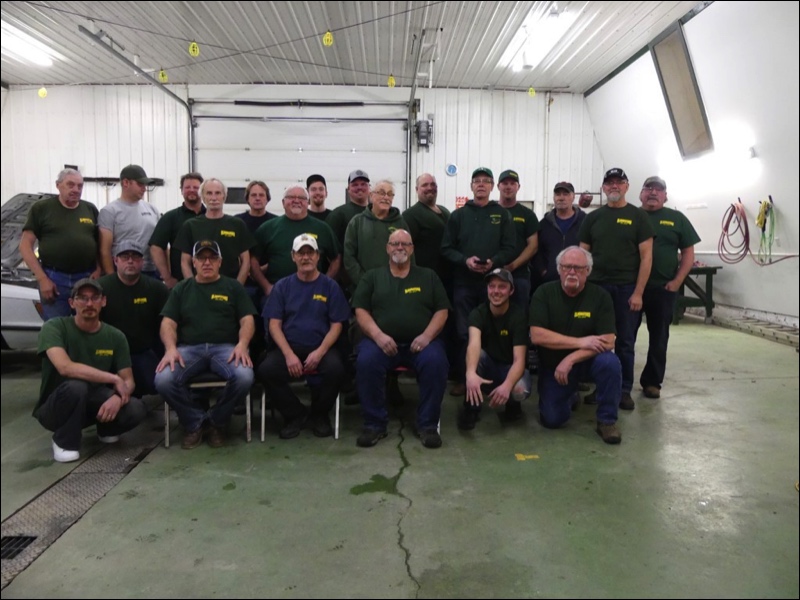 Back row
: Lawrence Ewert, Jason Soos, Chris Mhyre, Mel Knockeart, Tim Heinrichs, Duanne Fortney, Stu Johnson, Kyle Furseth, Gary Coombs, Cory Schultz, Roger Malchow, James Gerrie, Gary Overli, Dana Zacharuk, and Dave Knittle.
Front Row
: Pete Fehr, Montie Williams, Andy Toth, Brian Sharp, Ron Schultz, Nathan Seibel, Dave Peters.

Missing
: Cory Carlson, Dustin Vipond, and Doug Graham.
We have been unable to locate several past members and would like to post their names on the site to try to find them.
Please contact the club if you have any information about Steve Turner | Dave Mitchell | Cedric Clark | Gene Allen.

---
Executive
Cory Schultz - President
Pete Fehr - Vice President
Jason Soos - Treasurer
Stu Johnson - Secretary
---
Below is our updated members list.
Cory Carlson
Gary Coombs
Pete Fehr
Dwayne Fortney
Kyle Furseth
James Gerrie
Doug Graham
Tim Heinrichs
Stuart Johnson
Dalen Knockhaert
Mel Knockhaert

Roger Malchow
Chris Myhre
Nate Seibel
Cory Schultz
Ron Schultz
Jason Soos
Andy Toth
Dustin Vipond
Montie Williams
Dana Zachuruk

President's Message 2021
- Cory Schultz

Hey Guys,
With 2021 there will be new and interesting challenges. With that being said if we work together, we can accomplish whatever we put our minds too. We have proven it time after time. I myself have been fortunate enough to grow up amongst all you. You have become my extended family.

We are going to continue the cruises this year. Thank you to everyone that not only came out to support us but also the Salvation Army. I think it is something that really put us on the map and showed the community that we are fresh and have new and interesting ideas. As a bonus we get to get out and enjoy our passion a few more times a summer.

We are actively planning our 41st annual Riverside Run August 20,21,22. We will have updates as they come available posted here on the website as well as check out our Face book Page.

After 50 years we all have something to be proud of. I am very proud to say and tell everyone that I am a member of the Eliminators Car Club.

I think in retrospect that shows that we have the tenacity and the will power to move on our ideas and strengths.

Honored and Proud to be the President for 2021
Cory Schultz

---
The Eliminators Car Club was incorporated in June of 1970 by a young group of car enthusiasts.
Since that time the Club has undergone many changes but still maintains the same basic objectives it started out with.
The club holds weekly meetings on Monday nights at 7:30 p.m. at the club garage. 1255 N Railway West, Swift Current, SK.

These meetings are open to anyone interested in joining the club or participating in club events.

---
Mission Statement
• To provide and encourage an understanding of the automobile, its functions and mechanical makeup.

• To provide facilities where members can build, repair and improve the automobile.

• To educate and inform the public in regards to the safe operation of the automobile.

• To promote an understanding of the aims and objectives of the membership to the public at large in order to close the gap of misunderstanding between the public and the driving youth as a whole.

• To provide friendship, good fellowship and mechanical understanding among members.

• To take an active interest in the civic, commercial, and moral welfare of the community.

• To provide a means and facilities for social communication between the members and to afford them all or any of the privileges and conveniences of a club.
---